Samsung Air Conditioning
At AirCon UK, we work across the UK to provide installation and repair services for Samung air conditioning systems.
The air conditioning service we provide spans across sectors and provides solutions for a whole range of clients including homeowners, commercial businesses and those working in the industrial sector.
If you are looking for a service you can rely on to install a Samsung air conditioning unit, or work to extend an existing unit on your premises, we can offer you:
Highly-trained engineers with years of experience in the field
Exceptionally cost-effective rates
Maintenance support packages with our installations
We work to ensure our clients always receive a high level of service.  We know that having to deal with automated messages when you call a company can be frustrating, and that is why we pledge to ensure that a member of our friendly customer care team will be available to answer the phone and help you with any inquiries you have.
Repair and maintenance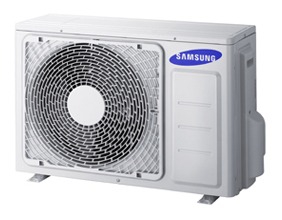 In addition to the installation services we provide, our professionals can also offer comprehensive repair and maintenance services for existing Samsung air conditioning installations.
In the vast majority of cases, our experienced engineers will complete repair jobs on-site, working quickly to ensure your air conditioning system experiences the minimum possible downtime.  All the parts we use as part of our repair service are manufacturer approved and we also offer an emergency callout service for all our clients across the UK.
Just call our customer care team today on 0800 311 8270 for a free-no-obligation quote on our installation and repair services.