Air Conditioning Installation
For many workers, this summer would have been an especially hot one. Offices, factories, shops and warehouses that have not yet had air conditioning installed would have felt the combined temperatures and the heat-producing technology that our work places are now packed with – a tough environment to be in.
Initial consultation
Our high quality installation service begins when we visit the building in which you want the air conditioning installation carried out. We will walk around the site with you discussing your expectations and needs, as well as pointing out all the relevant information you'll need to know. Gaining a greater understanding of what your needs are means that we will be able to put together a proposal that meets (and hopefully exceeds) your requirements.
If you are looking for a commercial air conditioning solution then there are a number of elements you need to consider before committing to an air conditioning installation, and some of the issues we need to consult you about are:
Size and shape of space
The shape and size of the space that needs to be cooled



Future uses and growth
Current and future uses of the space including growth plans



Commercial aims
How can air conditioning add to your business
The growth of technology in everyday work life has meant that air conditioning installations also need to factor in the levels of equipment within the space as well.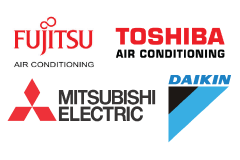 Dealing only with the major manufacturers of air conditioning technology such as Fujitsu, Toshiba, Mitsubishi and Daikin we offer competitive quotes for a wide range of installation requirements. By incorporating only the latest technology in your commercial air conditioning we can ensure you benefit from the quietest and most ozone friendly units that have the added bonus of being low energy consumers too.
Brands we install and repair include:
Whatever your needs, whether you are looking for a temporary solutions or a more permanent air conditioning installation, we can help.

REQUEST YOUR FREE QUOTE TODAY
Contact us now for a Free Quote for Air Conditioning Installation on Free phone 0800 311 8270.